News
The Motor Car Man with a Big Heart
December 10, 2018
"If you want happiness, there is only one way in the world to get it. You've got to give it." –Jerry Smith
T/m's newest special exhibit, Going Places: The Toy Collection of Jerry Smith, features toys collected by Jerry Smith (1917-1984), a Kansas City automotive dealer and philanthropist whose generous heart and fabulous toy collection left a lasting impact on the community.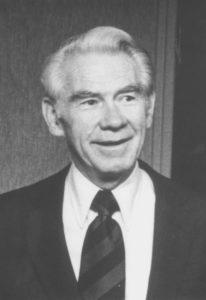 It was the Christmas of 1924 that would later inspire Smith to start collecting toys. The holiday was a big event for six-year-old Smith, who circled the toys he longed for in the Sears and Roebuck catalog. As the youngest of six, the Kansas farm boy was depending on Santa to fulfill his dreams. However, there was only one present waiting for him under the tree: a cast iron Arcade Fordson toy tractor.
Disappointed, Smith called Santa a "tightwad" and said it was "the skinniest Christmas I'd ever had." He would never forget those feelings of longing, frustration, and dashed hope, and that memory compelled him to help others in need. Smith grew up and moved to Kansas City, where he opened a Buick dealership at 5835 Troost in 1952. Smith ran his dealership with the philosophy, "You don't get ahead, you give ahead." He became a supporter of many local charities, especially those that served children. He also founded Operation Friendship, an initiative dedicated to providing for the community. In 1965, the Kansas City Times referred to Smith as "…a motor car man with a ready smile and . . . a heart that figuratively is as big as all outdoors. This particular man never seeks praise for his work. If you meet him on the street, he will just say . . . 'We've taken care of that last case you referred to us…tell us about some more folks who need a lift.'"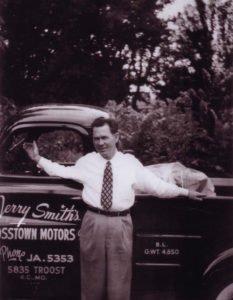 One Christmas, Smith's sister-in-law gifted him an identical version of his now long-lost Arcade Fordson tractor. He was overjoyed and realized there were more toys in the Arcade series. He set out to collect the entire set, and soon moved on to other toys that reminded him of his childhood: planes, trains, automobiles, farm toys, mechanical banks, fire engines, and transportation toys of all kinds. Eventually, Smith collected over 11,000 toys.
Following his philosophy of helping others, Smith used his collection to benefit the community. Whenever his collection was put on display, he would request that a fee be donated to a Kansas City charitable organization, usually Children's Mercy Hospital. During the holiday season in 1965, Smith's collection was exhibited at the Hallmark Gallery on Fifth Avenue in New York City. Over 130,000 visitors attended, and all the proceeds went to a youth organization. Smith even appeared on The Tonight Show with Johnny Carson to promote the exhibit; the entire video is available to view in the exhibit.
Back home in Kansas City, Smith's collection was exhibited at the Wornall-Majors House and the Kansas City Museum. Smith also created the Christmas Village, which featured festive holiday dioramas in the Long-Bell Lumberyard at Gregory and Wornall. Smith requested that admission proceeds go to Children's Mercy Hospital. By 1967, Children's Mercy had received over $25,000 from displays of Smith's toys.
Smith's philanthropy continues to influence the Kansas City community. His charitable contributions reached organizations including the Kansas City Museum, the Boy Scouts Area Council, Avila College, the Rehabilitation Institute, Children's Therapeutic Learning Center, and more. In 1976, Smith donated his 360-acre farm to the Kansas City parks system, which is still used as a park today. Last but certainly not least, Smith helped T/m founders Mary Harris Francis and Barbara Marshall assemble some of their earliest exhibits. Many of the cast iron and transportation toys T/m has on display in the permanent exhibits today came from Jerry Smith's collection.
For Jerry Smith, a disappointing Christmas turned into a lifetime of giving. As the Kansas City Star remarked in 1966, "Perhaps none of this would have happened if Santa Claus had come through with the entire list submitted by Jerry back in 1924. Maybe Santa knew what he was doing after all." During your next visit to T/m, be sure to stop by Going Places to learn more about the incredible toy collection and lasting impact of Jerry Smith.
— Written by Katherine Mercier
Comments
Back to Top