News
The Doll Gallery
February 18, 2019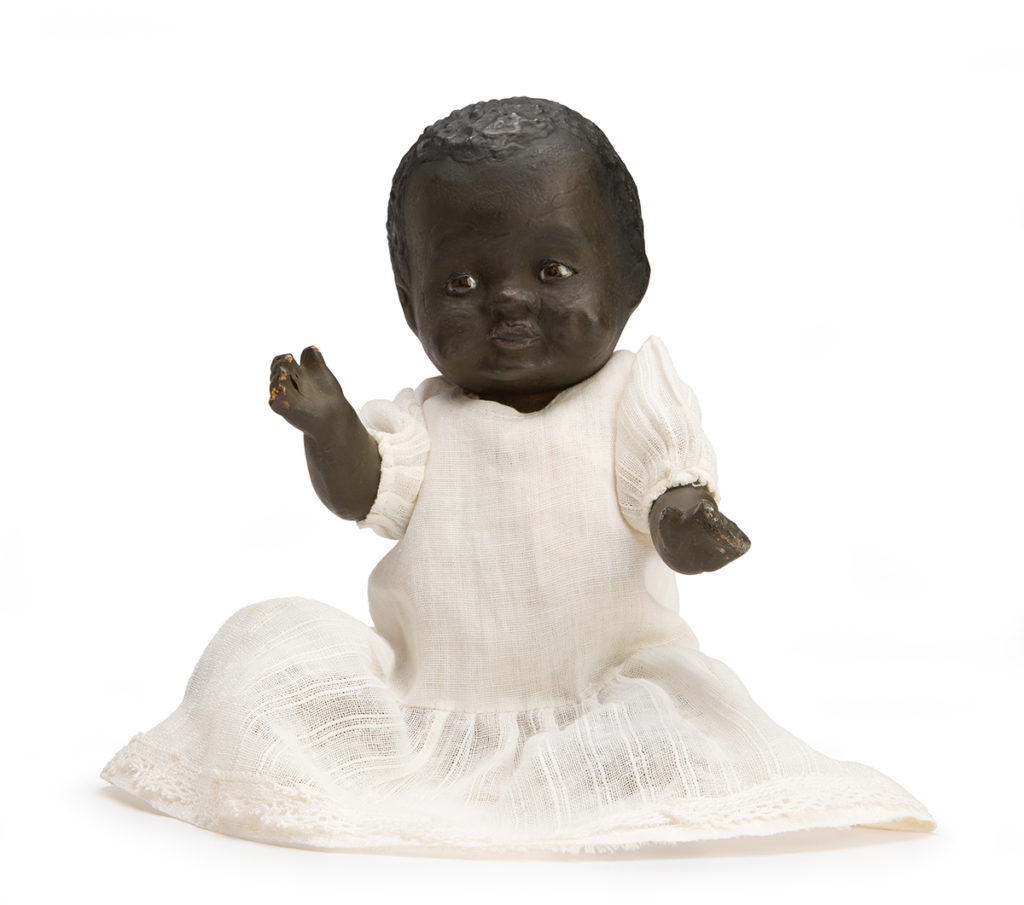 This month, we made some big changes to The Doll Gallery. Some old favorites have gone to storage for a time so that they can be protected from light, which will help preserve them for future generations of museum visitors. More than 30 dolls have come out of storage to take their place, including a rare, late 19th century baby doll by Leo Moss.
When Myla Perkins decided to sell several Leo Moss dolls from her collection in the spring of 2018, T/m curators sprang into action to try to add one to our collection. We were very fortunate to be able to buy a 10″ baby doll that Perkins had included in both volumes of her seminal publication, Black Dolls 1820-1991: An Identification and Value Guide. Unlike some of Moss' dolls which are named for the child they represent, this baby doll is unmarked. We do know, however, that collector and doll-maker Betty Formaz purchased about 30 Moss dolls, including this one, directly from the Moss family in the 1970s. Because its gender is undiscernible, we call the doll "Baby Moss."
Leo Moss, a handyman in Macon, Georgia, made his portrait dolls in the likeness of family, friends, and members of the community. His dolls are classified as character dolls because they have realistic facial features and expressions that convey specific emotions. Many Leo Moss dolls portray crying children, but Baby Moss is depicted as a happy baby. There are a couple of theories about why some of Moss's dolls appear to be crying; the more popular theory is that Moss would include tears if his young model became distressed and started crying while Moss was working on the doll.
X-ray images and CAT scans done by diagnostic radiologist Dr. Steve Eilenberg of three Leo Moss dolls in 2014 revealed intriguing information about Moss's techniques. (https://aperturephotoarts.com/leo-moss/) The three dolls studied all showed commercially-made composition doll heads, covered with sculpted papier-mâché to achieve the models' likenesses. The original composition heads are not discernable in the finished dolls. Using this method, Leo Moss produced dolls of exquisite artistry.
In addition to Baby Moss, the gallery includes five other dolls with papier-mâché heads, ranging in date from about 1830 to 1895. These dolls feature molded heads rather than Moss's sculpted technique. Two 26″ dolls with papier-mâché heads and cloth bodies look like they could have been made by the same company. Yet one was produced in Germany by Müller & Strassburger, while the other was made by Ludwig Greiner, a German-born American. Greiner immigrated to the United States in the 1830s, and in the 1840s, started his company in Philadelphia. In 1858, Greiner received a patent for his method of reinforcing the papier-mâché doll heads. The patent was extended in 1872, so this doll's markings indicate it was made before that date. It was common for dolls with papier-mâché heads to have hand-made cloth bodies, but this Greiner doll has a body designed by his friend and fellow-Philadelphian, Jacob Lachmann.

We hope you'll get a chance to visit T/m and our updated Doll Gallery. Check back later this year for blog posts on some of the other featured dolls and the people who made them.
Amy McKune
Curator of Collections
The National Museum of Toys and Miniatures
Comments
Back to Top