Barbara Marshall (1923-2021)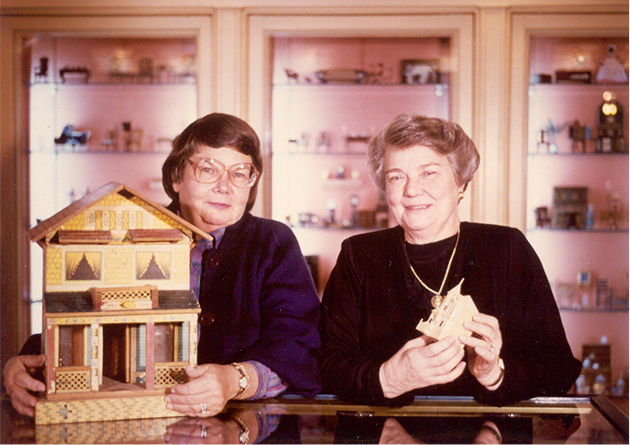 In childhood, Barbara Marshall loved small things and often looked forward to getting the "smallest" present from her father. In the 1950s, Marshall discovered the gallery of Eric Pearson in New York City and acquired her first fine-scale miniature, a rocking chair. By the 1970s, Marshall was a serious collector.
Marshall's professional career in the art department at Hallmark and her volunteer service at the Nelson-Atkins Museum of Art refined her eye for detail. She collected only the highest quality and often commissioned works from artists who could meet her standards.
Setting aside her personal stylistic preferences, Marshall encouraged artists to create their dream works of fine-scale miniature art. Her patronage allowed many artists the opportunities to explore the boundaries of the art form. The creation of a museum was the continuation of Marshall's work to recognize fine-scale miniatures as an art form. Today, the collection that Barbara Marshall built is the largest collection of fine-scale miniatures in the world.
Marshall was the recipient of the Crystal Award from the International Guild of Miniature Artisans (IGMA), an Award of Excellence from the United Federation of Doll Clubs (UFDC), and was an Academy Honor member of the National Association of Miniature Enthusiasts (NAME). She was also a member of the Antique Toy Collectors of America (ATCA), which embraced Marshall as one of their own.
Marshall was awarded an honorary Doctor of Fine Arts degree from the Kansas City Art Institute in recognition of her nearly 40 years of board and committee service.
Marshall retired from the museum and active acquisition in 2010. She passed away in 2021 and is remembered for her support of artists, dedication to arts education, and passion of fine-scale miniatures.
Back to Top