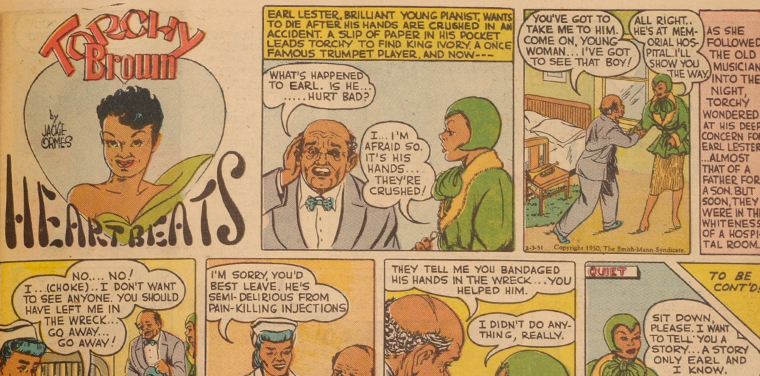 News
Cartoons Turned into Paper Dolls
March 20, 2016
T/m's newest exhibit, Stereotypes to Civil Rights: Black Paper Dolls in America, features work from the first African American female cartoonist: Jackie Ormes. Ormes created playful, often politically charged strips for readers of 15 African American newspapers across the country, including the Chicago Defender and Pittsburgh Courier, from the 1930s to the 1950s. There would not be another nationally syndicated black female cartoonist until the 1990s
Smart, classy, glamorous, bold, and rebellious, Torchy Brown was one of Ormes' most beloved characters. Torchy first appeared as a Mississippi teen finding fame and fortune as a Cotton Club singer and dancer in the 1937-1938 comic strip Torchy Brown in "Dixie to Harlem." Torchy reappeared in 1950's Torchy in Heartbeats as a beautiful, independent woman encountering adventure in a pursuit for her true love.
In addition to creating the first upscale black doll to have a whole line of clothes, Patty Jo from her comic Patty-Jo 'n' Ginger, Ormes turned Torchy into a paper doll (bet you can't guess where you might see it now through August 21, 2016?!). Torchy was so curvaceous that it was rumored servicemen used the paper dolls as pin-ups!
Photo: Torchy Brown Heartbeats, February 3, 1951, Comic Section, Pittsburgh Courier. Courtesy of Nancy Goldstein, www.jackieormes.com.
Comments
Back to Top