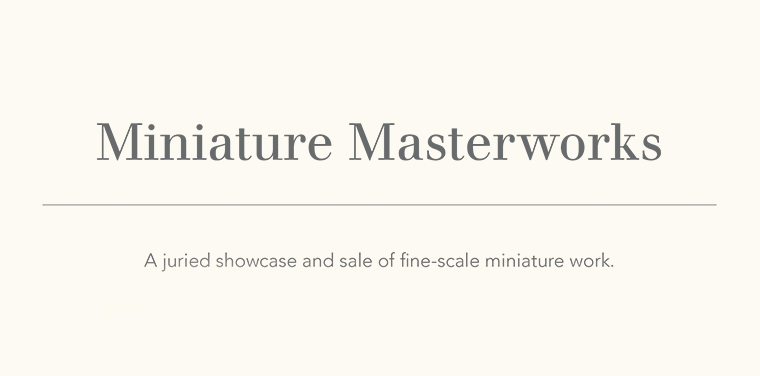 News
Fine-Scale Miniature Artists Honored
October 10, 2017
October 10, 2017 (KANSAS CITY, MO) – The National Museum of Toys and Miniatures recently presented three artists with the Barbara Marshall Award for Artistic Achievement. Named for the museum's co-founder, a patron of artists and the fine-scale miniature art movement, the award continues Marshall's work in nurturing creativity, innovation, and artistic exploration. Award entries were judged on quality, artistry, and contribution to the art form.
The first place recipient of the prestigious award was Rohit Khanna for his piece, Secretaire, a 1:12 scale reproduction of a c. 1776 French Secretaire by Martin Carlin with Sevres porcelain plaques in The Wallace Collection, London. Khanna, an India-based artist, specializes in fine reproductions of period furniture. "I am fascinated by the blend of metal and wood and the mechanical movement in furniture," he explained. Khanna uses shesham wood and makes his own hinges, handles, and nails through a lost-wax casting process. Khanna said he found combining wood, ormolu, porcelain, and marble to be exquisite. The porcelain pieces incorporated into the work were created by Japanese artisan Miyuki Nagashima.
Jack Cashmere received second place for his Minton Dessert Stand c. 1851. The Springdale, Arkansas, artist has been creating miniatures from various materials for 32 years. Cashmere was inspired to create this porcelain piece while visiting the Hofburg Palace in Vienna, Austria. "I saw this piece and was fascinated by the beauty and intricacy of this work by Minton," he says. "It was a gift from Queen Victoria to Emperor Franz Josef. It was never used because of the fragility of the piece." Cashmere's work features four sculptures, two plateaus, two central tier risers, and the base. There are 15 cups with tops as well as a small bowl in the center bottom. Taking third place was Althea Crome of Bloomington, Indiana, a fiber artist who combines her love of knitting and fascination with miniatures. Her winning piece, The Nativity, is a small-scale hand-knit pictorial cardigan inspired by a medieval triptych in the Metropolitan Museum of Art titled The Nativity with Donors and Saints Jerome and Leonard ca. 1510-15, oil painting on wood by Gerard David (c. 1455 – 1523). The work features 70 colors of fine silk thread, 24K gold thread, and 50,000 individual stitches. "The design of a triptych lends itself perfectly to rendering it on a cardigan; both contain three panels," says Crome. "I love the idea that a viewer must rotate the piece or walk around it to reveal the full narrative."
Barbara Marshall began collecting fine-scale miniatures in the 1950s and became a major patron of the fine-scale miniature movement. Her unique method of commissioning artists to create their dream works resulted in a number of exceptional, one-of-a-kind works. Her encouragement allowed many artists to push the boundaries of the art form, and her collection reflects the best the art form has to offer. Today, Marshall's collection is on permanent exhibit at The National Museum of Toys and Miniatures, which holds the world's largest collection of fine-scale miniatures. Marshall and her friend Mary Harris Francis, a collector of antique dollhouses and other toys, partnered to open the museum in 1982.
The Barbara Marshall Award for Artistic Achievement was presented during Miniature Masterworks, an international, juried showcase of fine-scale miniature work, hosted by The National Museum of Toys and Miniatures in partnership with The International Guild of Miniature Artisans, September 15-17, 2017.
ABOUT THE NATIONAL MUSEUM OF TOYS AND MINIATURES
The National Museum of Toy and Miniatures educates, inspires, and delights adults and children through the museum's collection and preservation of toys and miniatures. Located on the University of Missouri – Kansas City campus, the museum exhibits the world's largest collection of fine-scale miniatures and one of the nation's largest collections of historic toys. For more information, call (816) 235-8000 or visit www.toyandminiaturemuseum.org.
Comments
Back to Top