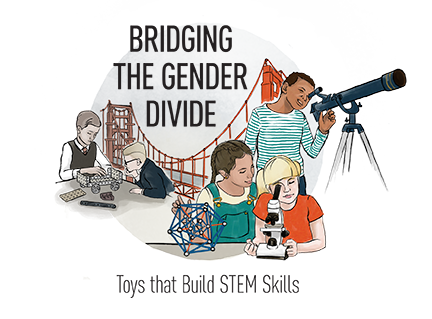 News
T/m explores impact of STEM toys with Kansas City professionals
May 11, 2021
Virtual event Meet the Experts: Women in STEM set for May 16

(KANSAS CITY, Mo.) – The National Museum of Toys and Miniatures (T/m) will explore the impact of STEM toys on a child's perception of gender roles and career choices with prominent Kansas City professionals during the upcoming virtual event Meet the Experts: Women in STEM.
The live panel discussion, scheduled for Sunday, May 16 (2-3pm), will feature SureShow, Inc. CEO and Founder Dr. Shelley Cooper, United States Department of Agriculture (USDA) Biological Sciences Specialist Dr. Kellyann Jones-Jamtgaard, and T/m Curator of Collections Amy McKune.
The panel will discuss how STEM (science, technology, engineering, and mathematics) toys shaped their own career interests, the skills they gained from play, how social constructs about gender and race have shaped STEM careers in the past, whether enough gains have been made in the marketing of toys to reflect a broader audience, and other themes. The event will conclude with an interactive Q&A session with the audience.
Registration is required for this free virtual event. Click HERE to register.
Meet the Experts: Women in STEM is held in conjunction with the current T/m exhibit Bridging the Gender Divide: Toys That Build STEM Skills.
About the Panelists:

Dr. Shelley Cooper
CEO/Founder, SureShow, Inc.
Dr. Shelley Cooper is an entrepreneur and 25-year veteran educator who continued her dedication to community service by studying telemedicine and earning her doctorate degree in 2014. Her dissertation, Opinion Leaders' Perspective of the Benefits and Barriers in Telemedicine: A Grounded Theory Study of Telehealth in the Midwest, laid the foundation for the 2014 establishment of the parent company Diversity Telehealth. The SureShow platform was founded in 2019. It replaced no-show medical appointments and late cancellations with billable telehealth appointments. Dr. Cooper also provides no-cost telehealth services for underserved families through her charitable organization Diversity Health Network, Inc. (501c3).

Dr. Kellyann Jones-Jamtgaard, Ph.D.
Biological Sciences Specialist, National Institute of Food and Agriculture
Kellyann Jones-Jamtgaard is a biological sciences specialist with the National Institute of Food and Agriculture (NIFA), an agency within the U.S. Department of Agriculture (USDA). She provides support for competitive education, research, and extension grants programs with a focus on minority-serving institutions. Prior to the NIFA, she was the career academy liaison at the Partnership for Regional Educational Preparation-Kansas City (PREP-KC), an education nonprofit that focuses on college and career preparation for urban school districts. Appointed by Mayor Sly James, she served as a commissioner on the Kansas City Health Commission, a group tasked with improving public health in Kansas City, Mo., from 2016-19.
Amy McKune
Curator of Collections, The National Museum of Toys and Miniatures
Amy McKune has served as T/m's Curator of Collections since 2017. She holds a bachelor's degree in anthropology from Kenyon College and a master's degree in History Museum Studies from the Cooperstown Graduate Program, SUNY – Oneonta. During McKune's 30-year career, she has served in curatorial and collections management positions for five museums. Between 1992 and 1996, she played a key role in creating the new Washington State History Museum (Tacoma, Wash.) and a 23,000 ft² long-term exhibition on Washington State's history. McKune is drawn to topics related to equity for women, so she welcomed the opportunity to curate Bridging the Gender Divide: Toys That Build STEM Skills.
THE NATIONAL MUSEUM OF TOYS AND MINIATURES
The National Museum of Toys and Miniatures educates, inspires, and delights adults and children through the museum's collection and preservation of toys and miniatures. Located on the University of Missouri-Kansas City campus, the museum exhibits the world's largest collection of fine-scale miniatures and one of the nation's largest collections of historic toys on public display. For more information, call 816.235.8000 or visit www.toyandminiaturemuseum.org.



###
Comments
Back to Top