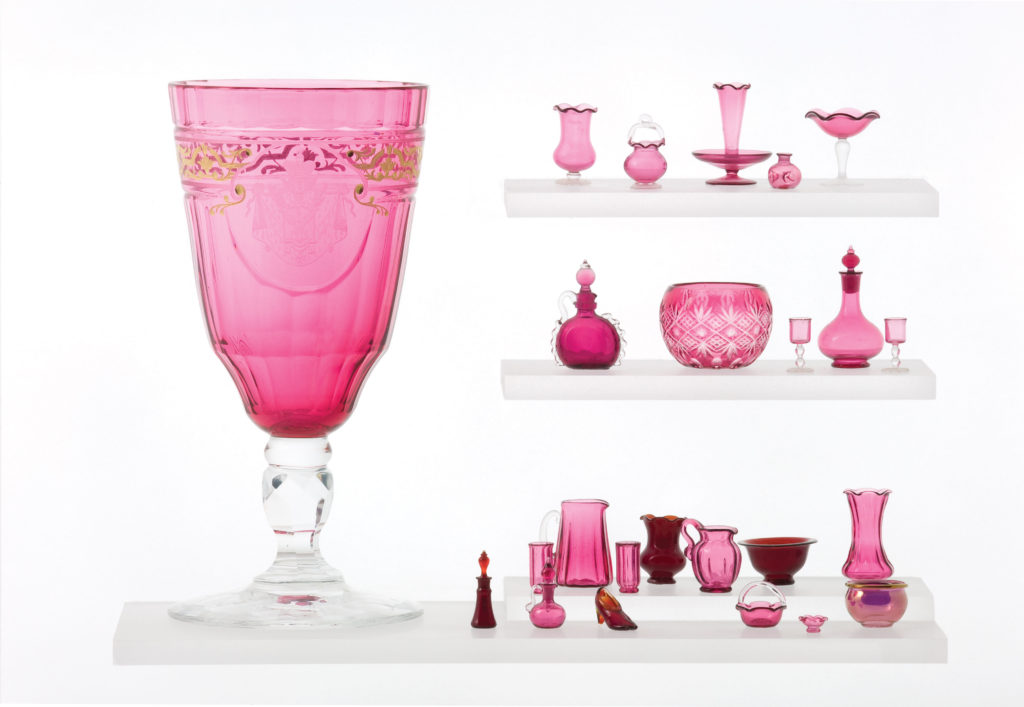 News
Artist Profile: Master Glassblower Francis D. Whittemore, Jr.
June 1, 2020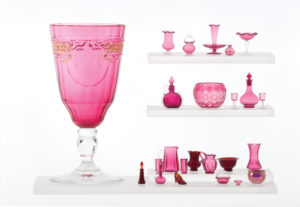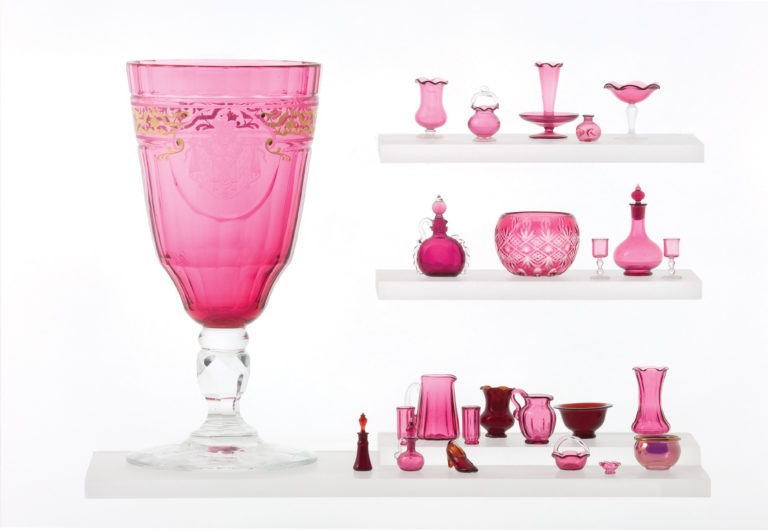 By Laura S. Taylor, Curator of Interpretation
One of the most striking comparisons of scale on exhibit at T/m is this full-size cranberry goblet alongside three shelves of 1:12 scale glass work by Francis Dyer Whittemore, Jr. (and one three-sided vase by Ferenc Albert).
Whittemore (1921-2020) was a self-taught glass artist who started making miniature glass bottles as a teenager using a Bunsen burner and the flame on his family's gas water heater. He joined the Army at the end of 1942 with one year of college under his belt, and his enlistment papers recorded that he was "semi-skilled" in the "production of glass and glass products." He served as a medic and interpreter during World War II and was appointed a Chevalier of the French Legion of Honour for his efforts during the 1944 campaign to liberate France.
Whittemore's entry in the 1945 Harvard Album lists him as a student studying Engineering Sciences. He went on to work at Dupont as a scientific glassblower, and although he continued to make miniatures, there wasn't much of a market at that time and he eventually set it aside.
In the 1960s, Whittemore taught himself to make art glass paper weights, and his work can be found in the Wheaton Museum of American Glass, the Smithsonian Institution, and the Corning Museum of Glass. Fluent in French, he served as a consultant to Baccarat, the luxury French crystal company, and Perthshire Glass, a paperweight company in Scotland.
An accident in 1976 left him unable make paperweights, and he returned to making miniature glassware. This coincided with the beginning of the fine-scale miniature movement, and once more, Whittemore found success. He created glassware in several scales and vivid colors, preferring lead glass (glass with at least a 24% lead content) because it retains its brilliance indefinitely. He was constantly experimenting with shapes, molds, gold overlay, and cut glass. All of his glassware was hand-blown, and he worked with tools that he made himself, including carbon rods and v-shaped implements for flaring.
In a 1979 article for Miniature Collector, Francis described his love of glass blowing: "The concentration must be so intense, so absolutely complete. In addition to that, there is something fascinating about the flame and the fact that the glass itself is so seemingly alive. You never know when you start a piece whether or not it will come out the way you intend, or even if it will come out at all. The glass has a life all its own."
Francis Whittemore's career as a glassblower spanned 66 years! After he retired at the age of 83, he took up water color painting and continued to make art. He passed away in January of this year, but his legacy will live on at T/m. We count 308 Whittemore works in our collection, including lamps, vases, pitchers, punchbowls, decanters, and more.
Sources:
Harvard University, Harvard Album 1945 (Massachusetts, Harvard University, 1945), 176.
Huff and Lakjer Funeral Home, Inc. "Francis D. Whittemore, Jr." January 4, 2020. http://www.huffandlakjer.com/obituary/francis-whittemore-jr.
Ide, Reed. "Master Miniaturist: Glass Artist Francis Whittemore." Miniature Collector, June, 1979, 24-27.
"World War II Draft Card," digital image, (https://search.ancestrylibrary.com/cgi-bin/sse.dll?indiv=1&dbid=2238&h=196456800&tid=&pid=&usePUB=true&_phsrc=szL201&_phstart=successSource, accessed June 1, 2020, Draft Registration Card for Francis Whittemore, Birth Date: January 6, 1021; Serial Number 1021. The National Archives in St. Louis, Missouri; St. Louis, Missouri; Draft Registration Cards for Massachusetts, 10/16/1940-03/31/1947; Record Group: Records of the Selective Service System, 147; Box: 1023.
Comments
Back to Top