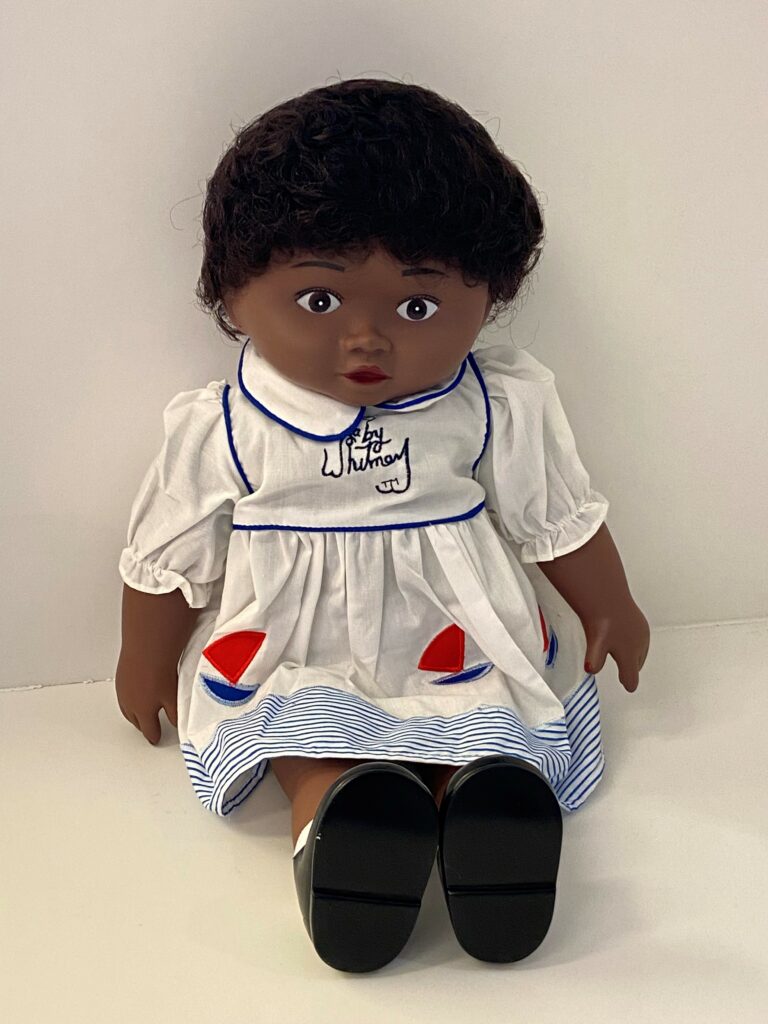 News
Meet Baby Whitney!
February 28, 2022
Baby Whitney was the brainchild of Melvin and Loretta Whitfield, who developed the doll in the mid-1980s in response to their frustration in not being able to find dolls that looked like Black children. The result was this doll that they described as, "based on esthetic and artistic historical data of both the African and Afro-American experience combined. The doll's large head, with its features beginning at one-half disc, and its wide flat face are derived from the Ashanti Aqu-Ba sculpture of Ghana, West Africa."
It is easy to see how the Whitfield's life experience would lead them to developing Baby Whitney, which they marketed under Lomel Enterprises. Melvin Whitney was a hospital administrator working for a health nonprofit in West Africa in the early 1980s. After he returned home and met Loretta Mae Thomas in 1983, they discovered that they shared a passion for creating a doll with whom Black children could identify.
Loretta Mae Thomas (1941 – 2021) was born in Wellington, Kansas – not that far from T/m. As a child, she moved with her parents to Washington DC when her father was hired to work as a clerk at the Pentagon. Loretta thrived in DC, where she graduated magna cum laude from Howard University and earned a Master's Degree in Psychology from American University.
The Whitfields spent seven years researching the design and consulted with artists at Howard University, where Loretta Whitfield worked as a counselor. Howard historian Rosalind Jeffries designed the doll's face. Loretta Whitfield designed the outfits and friends and neighbors helped in the doll's production.
Baby Whitney was introduced in November 1986 on the Cathy Hughes Morning Show in Washington, DC. Only about 3,500 dolls were made before being discontinued in the late 1990s. During that time, the doll received many accolades.
We are so pleased to add Baby Whitney to the T/m collection. The acquisition was funded by native Kansan Mary Lou Taylor who was especially excited to support the acquisition of a doll made by a Kansas-born woman. Mrs. Taylor donated the funds in honor of curator of collections Amy McKune, writing, "I am so pleased that you have continued to work on the doll collection so that children who visit the museum will see the richness of diversity in our country."
Comments
Back to Top