News
Transformations: New Perspectives on the Art of Miniatures Exhibition Showcases Artistic Innovation and Creativity
October 4, 2023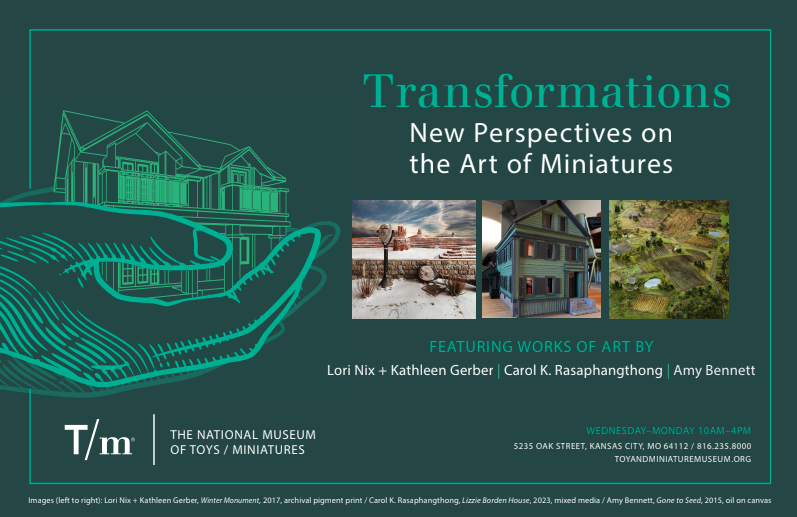 Transformations: New Perspectives on the Art of Miniatures Exhibition Showcases Artistic Innovation and Creativity.
The National Museum of Toys and Miniatures is thrilled to announce the upcoming opening of its latest venture – an art gallery dedicated to temporary exhibitions showcasing the artistry and creativity of miniatures. The inaugural exhibition, titled Transformations: New Perspectives on the Art of Miniatures, is set to open on October 27, 2023, inviting visitors to explore the captivating world of small-scale art beyond traditional boundaries.
While the Museum's permanent collection has long been celebrated for its focus on fine-scale miniatures, this new gallery aims to explore how miniatures are used by artists who are not necessarily working in fine-scale. Artists from various backgrounds will be invited to experiment with the concept of small-scale art, pushing the boundaries of creativity and expression.
Transformations will feature the works of four extraordinary women who have harnessed the power of miniatures as a means of inspiration. Carol K. Rasaphangthong, Lori Nix + Kathleen Gerber, and Amy Bennett will each present their unique artistic visions that transcend the traditional use of miniatures.
Carol K. Rasaphangthong creates intriguing and surprising miniature scenes of homicide and murder, which are then incorporated into narrative videos that captivate audiences.
Lori Nix + Kathleen Gerber, an artistic team, create complex dioramas out of foam board, paint, plaster, and wood, then transform these dioramas into thought-provoking and visually stunning archival pigment prints that focus on the impact that humans are having on our world.
Amy Bennett constructs miniature sets, detailed and full of life. These sets then become the subjects of her paintings, which explore themes of time, isolation, and transition.
Transformations exhibits four visionary artists who exemplify the diverse ways in which miniatures can serve as a catalyst for creativity, transcending their physical dimensions to inspire their artistic narratives.
Don't miss this opportunity to witness the convergence of small-scale art and boundless creativity.
For press inquiries, images, and interviews, please contact:
Landon Collis, Marketing Strategist
816.235.8009
landoncollis@toyandminiaturemuseum.org
Follow us on social at @toyandminiaturemuseum for updates and insights into the world of miniatures.
Comments
Back to Top