National Excellence and Community Impact Campaign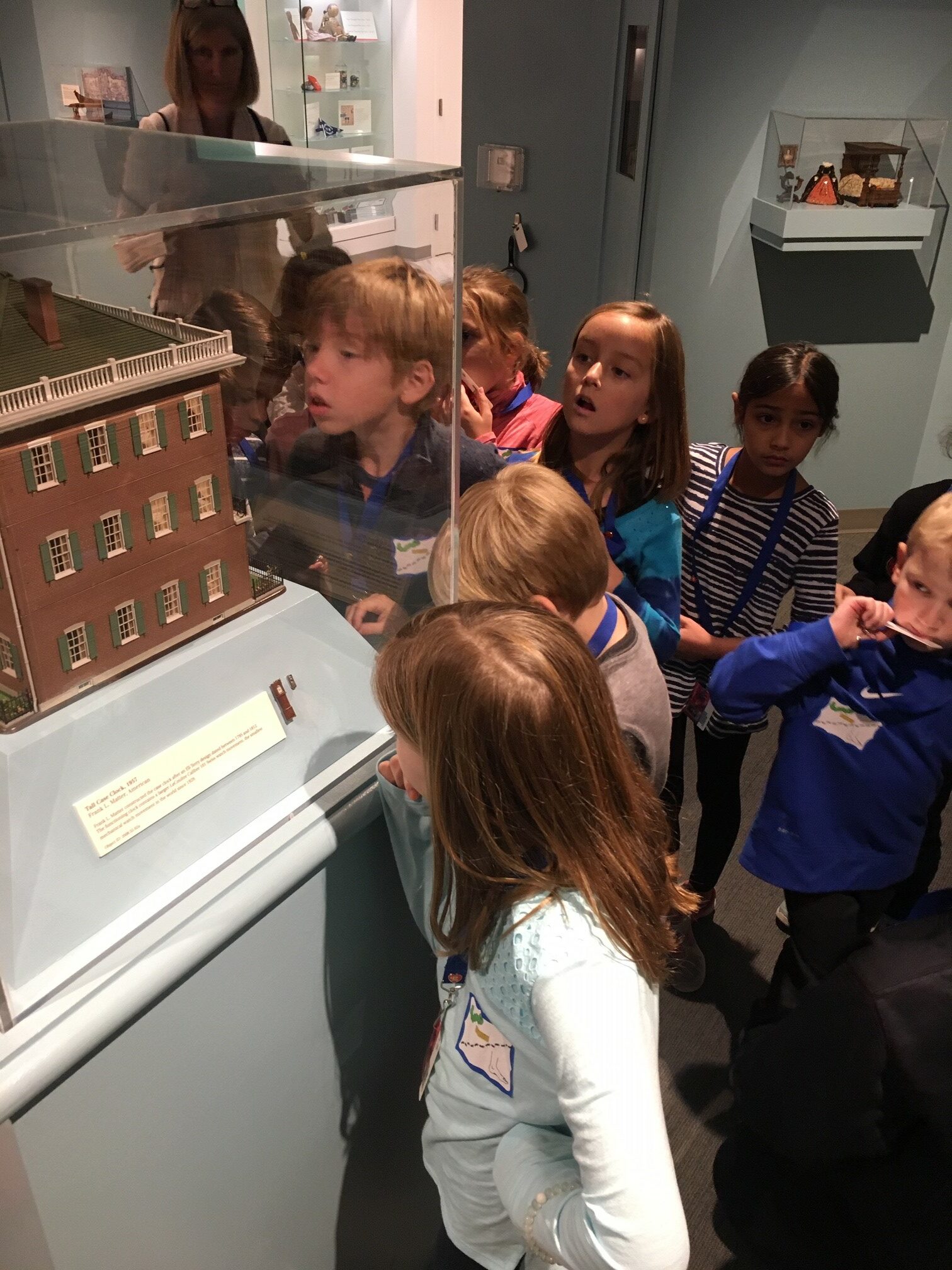 You hold the power to make a significant difference and help bring a momentous campaign to a close. The Museum launched the National Excellence and Community Impact Campaign to renovate and create new art galleries, expand and upgrade collections' storage including creating a preservation environment, and enhance visitor accessibility and interpretation of the objects in the collection.
With the community's generous contributions, we've reached over 90% of the funding goal. In October of 2023, we kicked off the public phase of the campaign. Your support is now needed to reach the ambitious campaign goal of $2.5 million dollars to fund educational programs and exhibitions to expand community impact and build on current engagement efforts.
Today you can create a legacy that nurtures creativity and inspires curiosity for people of all ages. In alignment with the Museum's mission, this campaign has already enabled a series of transformative expansions, detailed below.
Image: Children on a group tour taking a closer look at the Boston Beacon Hill House.
Questions? Contact Jill Grotzinger, Director of Development, at 816.235.8006 or JillGrotzinger@toyandminiaturemuseum.org.
---
Discover the Campaign's Developments
East Gallery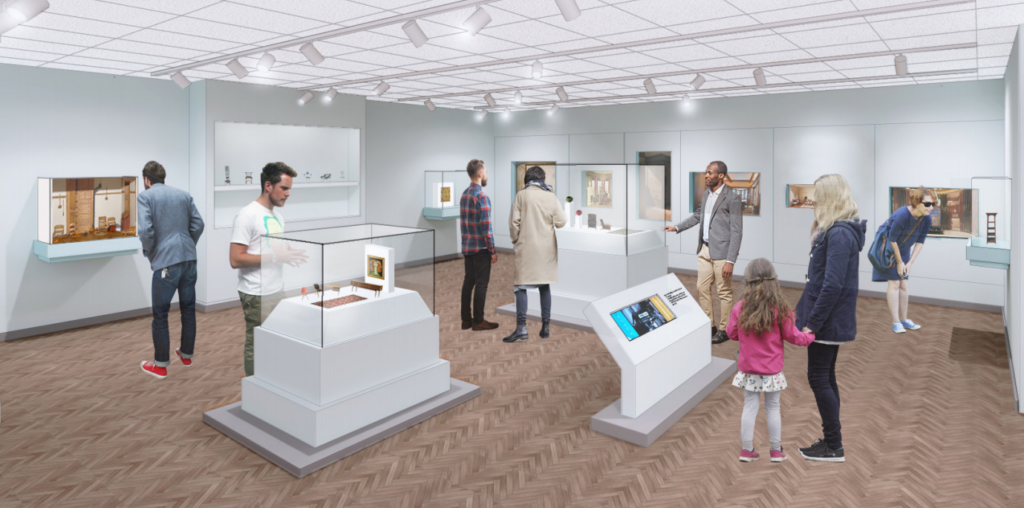 Architect rendering of the new miniature art gallery created to showcase temporary exhibits.
The National Museum of Toys and Miniatures completed the new 660-square-foot East Gallery as a rotating miniature gallery to complement its existing rotating toy exhibition spaces. Transformations: New Perspectives on the Art of Miniatures, the debut exhibit, opening on October 27, 2023, showcases artists Carol K. Rasaphangthong, Lori Nix / Kathleen Gerber, and Amy Bennett. They creatively construct miniature scenes that are then transformed into other media such as stop-motion video, large format photographs, and paintings.
Miniature Maze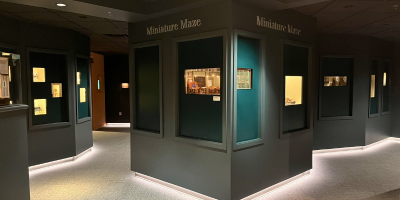 View of the Miniature Maze with cove lighting to guide visitors through the space.
The Miniature Maze holds cherished miniature rooms acquired by Museum co-founder Barbara Marshall. Renovations improved accessibility by upgrading lighting for easier mobility. Overhead lighting modernized the ceiling, enhancing aesthetics. Freshly painted walls further renewed the space. A significant enhancement transformed the southeast corner into a Miniature Art Museum, offering rotating exhibits and expanding collection displays, providing visitors with captivating new experiences.
Miniature Art Museum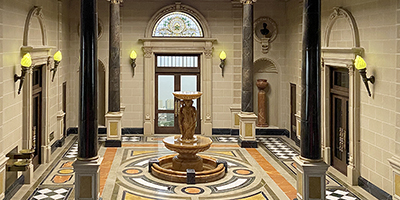 Miniature Art Museum, 2023, Chris Toledo, United States
The National Museum of Art and Miniatures commissioned Los Angeles-based artist, Chris Toledo, to create a Miniature Art Museum. In many ways, this project, consisting of five miniature galleries and a central atrium, is not unlike the opening of a new wing in a full-scale museum. With this expansion, the Museum increases the capacity to present rotating exhibitions of paintings and sculptures made by miniature artists inspired by well-known artworks throughout history.
Thorne Room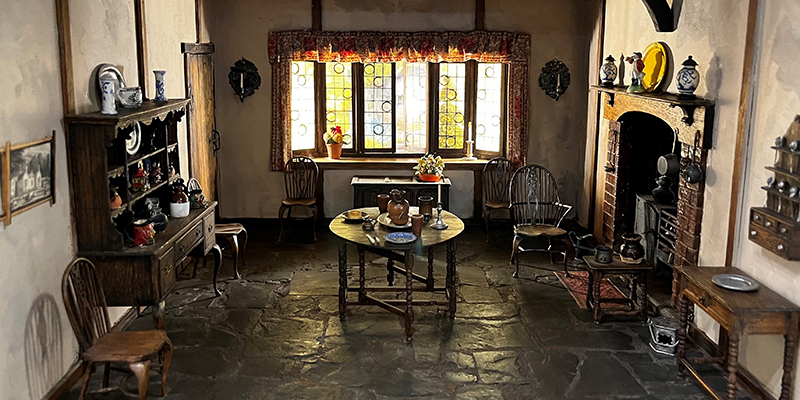 English Cotswold Cottage, 1933-1934, Narcissa Niblack Thorne, United States
Out of the public eye for over half a century, this English Cotswold Cottage, part of a series of rooms produced by Narcissa Niblack, resurfaced on the North Shore of Chicago in 2019. This unexpected and fortuitous acquisition allows The National Museum of Toys and Miniatures to convey the history and significance of fine-scale miniatures in new and exciting ways. Produced on a 1:12 scale, this 17th-century Cotswold Cottage is characterized by its simplicity and functionality, reflecting the lived experiences of rural laborers.
Questions? Contact Jill Grotzinger, Director of Development, at 816.235.8006 or JillGrotzinger@toyandminiaturemuseum.org.
---
Vision for Educational Programs and Exhibits
Educational Programs
"Thank you for giving us three amazing experiences at your museum this summer. The students thoroughly enjoyed themselves and learned a lot. We've shared with our friends how wonderful you all are!"
— Jennifer Kucinski, Kansas School for the Deaf, June 30, 2023
Exhibits
"This museum is a gem of Kansas City. It is a must-see treasure with so many eye-opening, incredibly splendid, gorgeous, finely crafted miniatures that elicited a thousand 'WOWs' from me. It is truly one of a kind and leaves a lasting impression."
-Tara Brungart, The Nelson-Atkins Museum of Art, June 20, 2023
Imagine the joy of learners of all ages immersed in the personal and historic narratives of toys and miniatures. Through enhanced partnerships with the University of Missouri–Kansas City and expanded on-site, off-site, and virtual programs, learning and engagement can flourish. With your help, the impact of educational programs can resonate across Kansas City and through virtual engagements anywhere in the world, catalyzing personal and community growth in skills, knowledge, and well-being.
Envision dynamic temporary exhibits in the newly created East Gallery showcasing artworks that explore miniatures and their place in contemporary art. These changing exhibits highlight the work of a diverse array of artists considering small things in their creative process. It also allows the Museum to expand collaborations with artists to examine sometimes experimental ideas and challenging subject matter through varied lenses. Your gift supports these exhibits that engage, inspire, and educate audiences.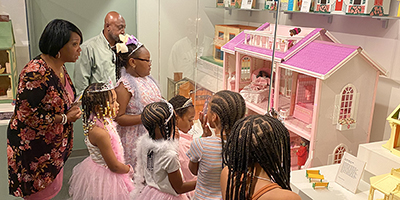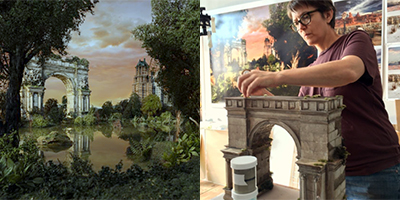 Keisha's Tea Party is an annual celebration for children ages 6-11. Children participate in experiential activities that celebrate diversity and inclusion through the lens of objects from the museum's collection. 2022 participants are pictured here learning about imaginative play in front of the Barbie Magical Mansion (Mattel, 1990).
Lori Nix and Kathleen Gerber are two of four artists participating in Transformations: New Perspectives on the Art of Miniatures, the inaugural exhibition in the East Gallery. Museum visitors will be able to see miniatures that artists used to inspire their artwork including the arch for Nix and Gerber's large-format photograph, "Arch."
Questions? Contact Jill Grotzinger, Director of Development, at 816.235.8006 or JillGrotzinger@toyandminiaturemuseum.org.
---
Support the National Excellence and Community Impact Campaign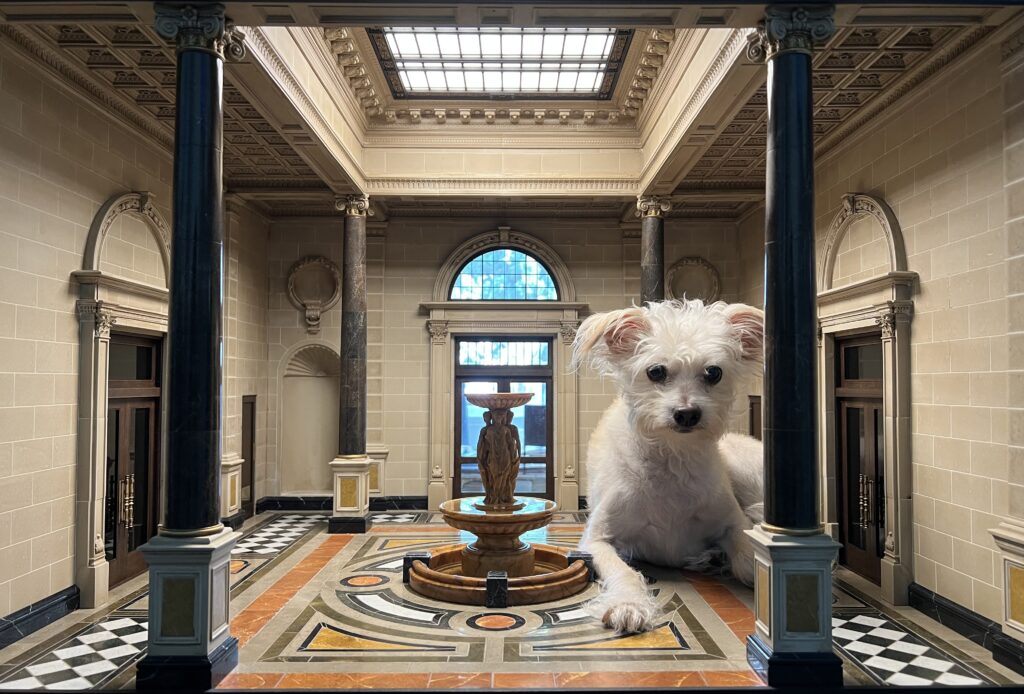 Give today to sustain existing and create new educational programs and exhibits that provide learners of all ages with new knowledge and skills.
$5,000 – $10,000 supports temporary exhibits that showcase a wide range of diverse displays for the community to construct a deeper understanding of themes such as cultural diversity and social justice.
$2,500 – $5,000 supports children from community organizations to attend immersive educational programs such as Keisha's Tea Party inspiring a love for learning.
$1,000 – $2,500 funds class field trips for students to experience arts-integrated programs, aligned with state standards, resulting in long-term academic and social gains.
$500 – $1,000 creates digital content to provide an interactive experience where on-site and virtual guests engage in a deeper exploration of the collections' stories and historical significance.
Image: Chris Toledo's dog, Stella, showing the scale of the Miniature Art Museum atrium while under construction in his art studio.
Questions? Contact Jill Grotzinger, Director of Development, at 816.235.8006 or JillGrotzinger@toyandminiaturemuseum.org.
---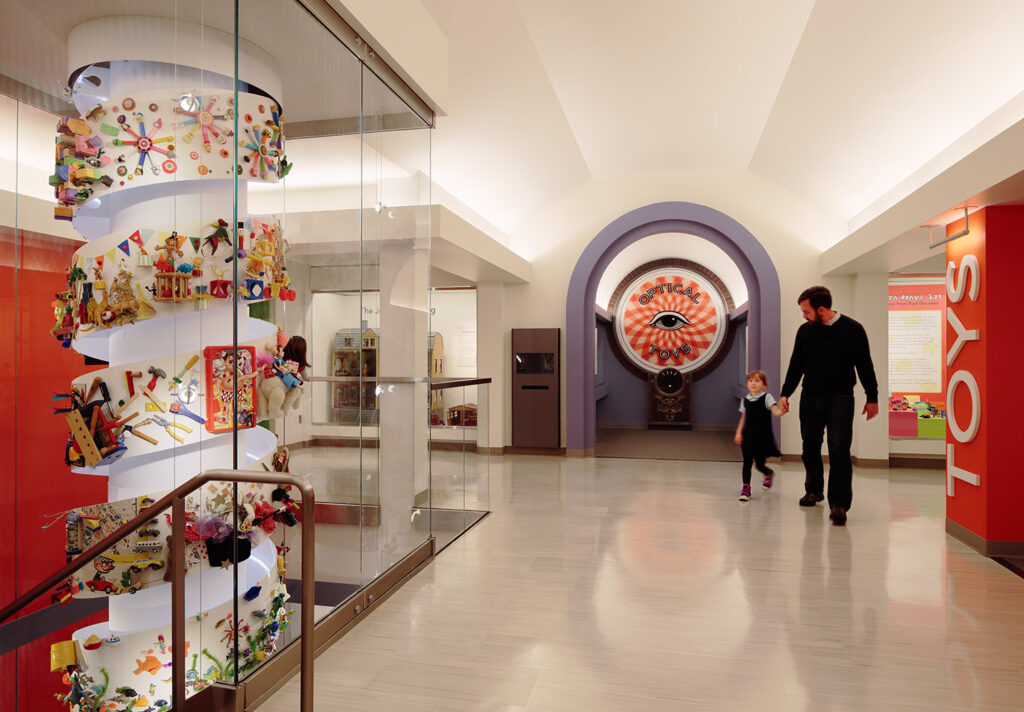 Among multiple exhibits, visitors to the second floor engage with Optical Toys and view the two-story spinning helix that envisions the playful interactions of children with toys, as well as the whimsical scenarios toys might create.
A young visitor is using a magnifying glass to take a closer look at displays In The Artist's Studio, a gallery that examines the processes used by artists to make miniatures.
This two-story spinning helix (1st floor) connects the two museum floors and features toys donated by the Kansas City community for the project in 2014-2015.
Thank you, Campaign Donors!
Your donation to the National Excellence and Community Impact Campaign creates a vibrant, culturally enriched community and leaves a lasting legacy for generations to come. Many thanks to the following individuals and charitable foundations for their support as of November 13, 2023.
Legacy Circle | $100,000+
Ann Barhoum
Edward F. Swinney Trust
Francis Family Foundation Discretionary of David and Janis Francis
J. Scott Francis, Francis Family Foundation
Hall Family Foundation
Janet K. Long
Muriel McBrien Kauffman Foundation
Barbara Hall Marshall Estate
Barb J. Marshall
Shirley and Barnett Helzberg Foundation
Margaret Silva
The Sunderland Foundation
Community Partner | $10,000 – $99,999
Estelle S. and Robert A. Long Ellis Foundation
Donald J. Hall
Donald J. Hall, Jr.
The H&R Block Family Foundation
The Sosland Foundation
Stanley H. Durwood Foundation

Museum Friend | $1,000 – $9,999
Barbara and Bill Nelson Foundation
Conan J. Castle
Karen L. Christiansen and Thomas B. Phillips
Susan Stanton
Corey and Joe Ziegler
Collection Steward | $100 – $999
Norman Allen
Dwight and Naomi Arn
Carolyn Arnold
Robert Barnes
Wolfe Brack
Susan Brown
Antonio Byrd
Kay and John Callison
Harry and Lisa Crawford
Bill and Mary Ann Dilla
Gary and Sherry Forsee
Anne Manning
Robert Funk and Jo McCracken
Tibor and Michelle Mohacsi
Julia Gargallo and Gregory Woodhams
Jill Grotzinger and Rusty Owings
Michele Hamlett-Weith and Brian Weith
Petra Kralickova
Kurt and Lisa Kunke
James Large
Teresa Martinez
Amy McKune
Naomi Mirsky
Tibor and Michelle Mohacsi
Thomas and Sydna Mullane
Larry and Elnora Nokes
Virginia Otto
Margaret Perkins-Mcguinness and Nathan Benjamin
George and Wendy Powell
Saralyn Reece Hardy
Madeline Rislow and Kip Smilie
Esther Robertson
Sandra Rose
Blair Tarr
Ann Vernon
Virginia and Jim Young
Questions? Contact Jill Grotzinger, Director of Development, at 816.235.8006 or JillGrotzinger@toyandminiaturemuseum.org.
---
Questions
How can I make my gift or a multi-year pledge?
You can make your gift online or by mailing a check to 5235 Oak Street, Kansas City, MO, 64112.
To make a multi-year pledge, please contact Jill Grotzinger, Director of Development, at 816.235.8006 or jillgrotzinger@toyandminiaturemuseum.org.
Is my gift to the Museum tax-deductible?
Yes, your gift is 100% tax deductible. The Museum is a 501(c)3 registered nonprofit, EIN: 43-1187852.
Can I donate in honor or memory of someone?
Yes, you can make a gift in someone's honor or memory. Please include your honoree's name and information on how you would like them to be recognized.
Can I make a gift through my Individual Retirement Accounts (IRA), life insurance, or will?
Yes, you can provide long-lasting support for the Museum while receiving tax benefits. To learn more, please contact Jill Grotzinger at 816-235-8006 or JillGrotzinger@toyandminiaturemuseum.org.
Have additional questions?
Please contact Jill Grotzinger, Director of Development, at 816.235.8006 or JillGrotzinger@toyandminiaturemuseum.org.


Thank you for your generosity.
Back to Top