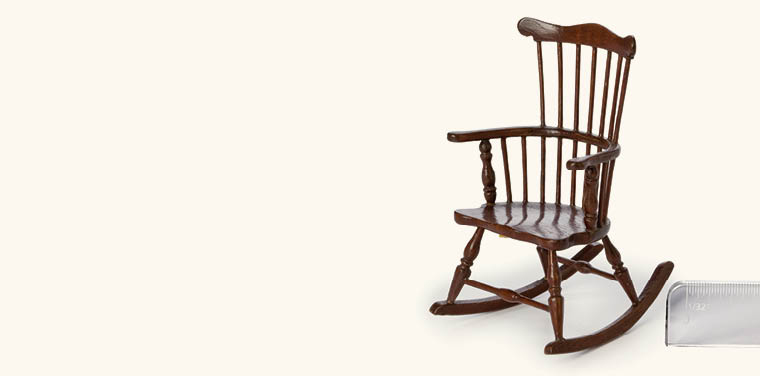 News
Where it all began…
September 19, 2013
T/m's large fine-scale miniature collection began with this three-inch rocking chair. One of our founders, Barbara Marshall, came across the subterranean storefront of Eric Pearson while shopping in New York City in the 1950s. Pearson began making miniatures twenty years earlier after a successful career as a full-sized cabinetmaker.
He had many loyal customers: Narcissa Thorne contracted him to make several pieces for her European and American rooms now on view at the Art Institute of Chicago. And he produced numerous custom-made furniture pieces for Eloise Kruger now housed in the Kruger Collection at the University of Nebraska- Lincoln. Pearson is often credited as the first professional fine-scale miniature artist in the United States.
What is a fine-scale miniature? Miniatures are accurate, scaled artworks of full-size pieces. Often they are made out of the same material as the full-size works and operate in the same way! Most of our collection is in 1:12 scale, meaning one inch in the miniature equals one foot in the full-scale piece.
Comments
Back to Top